Absolute horizontal accuracy down to





Get your survey data faster
The WingtraOne mapping drone's unique set of features empowers you to minimize your time flying and get more work done, be it another project in the field or analyzing your data at the office.
Efficient fixed-wing flight
Fly at 16 m/s (36 mph) for up to 59 minutes per flight for large coverage.
61 MP camera
WingtraOne can fly higher than drones limited to 20 MP cameras, so you capture more ground and more detail with every picture and a larger area per flight.
No more GCPs, checkpoints only
With an onboard high-precision PPK GNSS receiver you no longer need to lay out ground control points (GCPs). Use as few as three checkpoints to verify your map quality.
Lower image overlaps
High quality optics means you can reconstruct your map reliably even with lower overlaps. This means more new ground covered per flight line and maximum coverage per flight.
Numbers refer to Wingtra's coverage and labor cost calculator and the most widely used competitor drone and camera models. This number can vary depending on factors such as overlap, camera model, and altitude. The model takes into account data collection only. Flight planning, setting up GCPs, data processing, and time to relocate between flights are not taken into account in this model.
faster than multicopter drones
faster than standard fixed-wing drones
Cut Your Costs
Faster data collection and expanded coverage mean fewer people in the field for less time, lowering the man-hour costs associated with data collection.
Survey more in a single flight
Whether it's a highway, an industrial complex or a mine, you can now take on large projects that were previously impossible to map with a drone. And it takes you just a few hours.
Comparison of the best mapping drones
Maximum coverage with one flight at 1.9 cm/px (0.75 in/px) GSD

WingtraOne RGB61 II
61 MP camera
310 ha (766 ac)
120 m (400 ft) altitude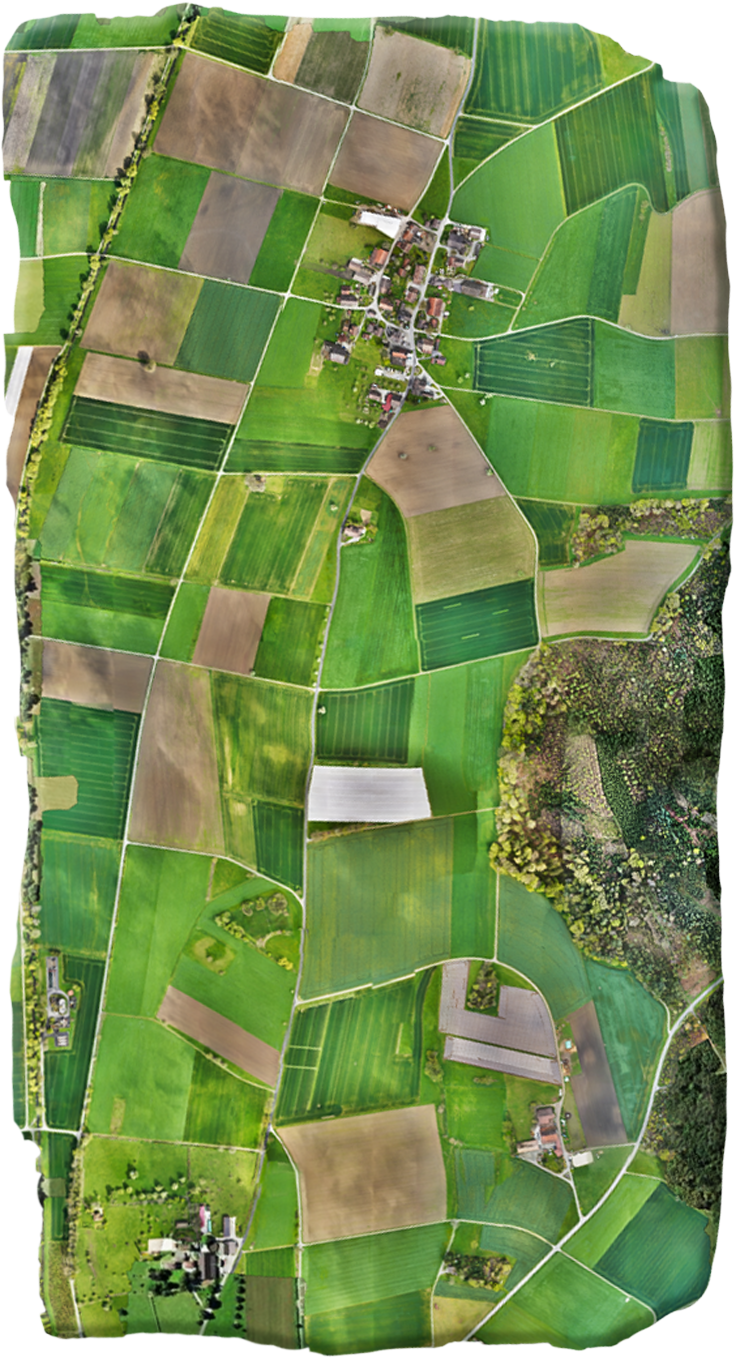 Other fixed-wing drones
20 MP camera
170 ha (420 ac)
93 m (305 ft) altitude

Multicopter drones
20 MP camera
29 ha (71 ac)
69 m (226 ft) altitude

A camera for every surveying job
WingtraOne makes no compromises on aerial image quality. Whether you need data for orthophotos, 3D models or multispectral mapping, WingtraOne carries the best camera for every application. As you exchange cameras in the field, various types of data can be acquired with the same mapping drone.
Software for a smooth workflow
WingtraOne comes with a rugged tablet and a feature-rich, easy-to-use flight planning app, so you can perform successful data collection from day one.

KML import
For a seamless mission, simply import KML files directly from GIS programs. WingtraPilot will construct the optimal flight path to cover the area.

Corridor mapping

The feature enables fast, efficient coverage of long, narrow stretches such as roads, pipelines or rivers.

Terrain following
Safe and effective mapping from steady altitudes in even the most mountainous areas thanks to global terrain models or your own custom elevation data.

Pause and resume
At any time during flight, you can either pause and resume the survey mission or prompt the drone to fly back to its take-off location automatically.

Offline maps
No internet connection in the field? No problem. You can always download offline maps in advance while you're still connected to the internet.

Battery swap and resume
Automatically splits large missions, pausing flight and resuming after the batteries have been swapped.
A drone you can rely on
No matter the conditions, WingtraOne operates safely and delivers high-quality data, consistently.
Engineered and assembled in Switzerland

Each fixed-wing drone is subjected to more than 300 rigorous tests to ensure the highest quality standard.
Industry-leading reliability

More than 100,000 flights and 6 years of continuous testing and enhancements will ensure maximum up-time for your operations.
Predictive self-diagnosis

WingtraOne self-diagnosis component malfunctions using advanced machine learning algorithms based on thousands of flights.
Automated safety checks

Before every flight, the WingtraOne automatically checks its own sensors and actuators to make sure you can fly safely.